Every day we receive several emails with different questions, requests and wishes. Thank you for being actively involved in our project! We decided to collect all mERP frequently asked questions in one place. Let's go!

Can I try the app before purchase?
What versions of Odoo are support?
What devices I can use "Ventor" app with?
How do I buy mERP licenses?
Where can I find Ventor guides?
How can I renew mERP licenses?
How can I manage the licensing and activation? Do I activate it per device from my account?
How can I switch my mERP license to my new device?
How can I use/see/add any module or field in mERP?
Will other modules appear if they are not in the database?
Can I switch between databases?
Do you offer a white-label version?
Can I configure the company logo?
I need a feature that I don't find in the mERP now. Is it possible to develop it?
What is the cost of customization of app? What is the license cost for your partners?
I want to become a partner. What is needed? Is it free?
I've sent request to Become a Partner. What should I do next?
Can I use my android device like barcode scanner with mERP warehouse module?
When is the IOS version expected?
What about "Offline mode", "GPS Tracking", "Bluetooth Print", "Fingerprint Recognition" and etc?
I am a mERP partner. How should I help to promote the app?
Do you have mERP's media kit (logos, banners). Can I use it for partner (media) promotion?
Where do I find Privacy Policy model?
Can I try the app before purchase?
Yes, you can use the app 7 days for free. Please find and download Ventor (includes mERP) using link below:
Try for free for 7 days
What versions does mERP (or Ventor) support?
mERP supports Odoo version 6.1, 7, 8, 9, 10, 11, 12, 13 (except for a few modules) and Odoo SAAS connection
Ventor (formerly mERP Warehouse) app supports Odoo 8, 9, 10, 11, 12, 13 (community and enterprise).
What devices I can use "Ventor" app with?
Ventor (formerly mERP Warehouse) app works on any Android Device with Android 4.1+ as well as the following professional barcode scanners with Android 4.1+:
Zebra Mobile Computers
The devices below should have Android OS version 4.1-7.0
– MC32
– MC33
– MC40/40-HC
– MC67
– MC92
– TC20
– TC25
– TC51/56
– TC55
– TC70/TC70x and TC75/75x
– TC8000
Newland Mobile Computer
– Symphone N2S (Kit-Kat / Lollipop)
ScanSKU Mobile Computer
– M Series Rugged Android Barcode Scanner (Lollipop)
How do I buy mERP licenses?
First of all you need to create a new account. After that, you can add any amount of licenses into the shopping cart. You can buy licenses using bank transfer (payment from a company) or use PayPal (payment from a person). Please see full mERP license ordering process with screenshots.
We are also providing invoices by request for PayPal payment.
Where can I find Ventor guides?
You can download Ventor Quick Start Guide here. This guide will help you start working with the app.
How can I renew mERP licenses?
Log In on ventor.app using your account -> Go to "My Licenses" -> Choose the license and click on the button "Renew for 1 year" -> Go through payment process.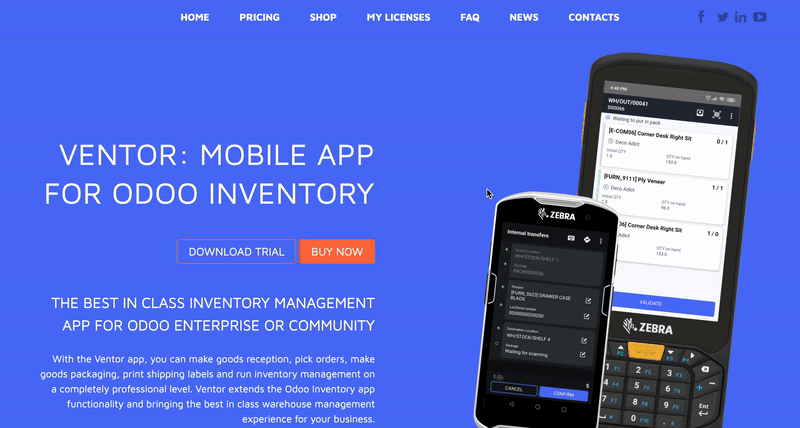 How can I manage the licensing and activation? Do I activate it per device from my account?
Yes, you can do it. You can buy X licenses and then activate it per device using license code. For example, you buy 10 licenses. We send you license's code: 123-456-789. You may activate it for any 10 android devices. You can manage all activated devices in your personal account.
How can I switch my mERP license to my new device?
Log In on ventor.app using your account -> Go to "My Licenses" -> Choose the license and click on the button Manage -> Choose your device from the list and click deactivate. After that, you can use the license on another device.
How can I use/see/add any module or field in mERP?
Any and even custom module or field you'll add to your server will automatically appear in mERP.
Will other modules appear if they are not in the database?
Only modules that are installed in your database will appear.
Can I switch between databases?
Yes, you can. Multi-user feature allows you to easily switch between users. You can do that either from login screen using "Select existent user" button or from the context menu "Switch user" when you are inside particular database
Do you offer a white-label version?
In most cases, partners are asking for changing logo. We provide this service free of charge for partners. So you can have a custom look and feel of the application. But we don't provide mERP to be resold as completely other product. Note that free customization is limited to only change of logo.
Can I configure the company logo?
Yes, if you buy mERP licenses we change the logo for your custom application. Branding is free for partners. You can already send your logo after license purchase so that we'll prepare custom build for you or your customer.
I need a feature that I don't find in the mERP now. Is it possible to develop it?
Custom features development service is available for partners. Request from us quotation of development efforts and possible delivery date. If the estimation is ok then we start development that will be paid by your company at partnership rate.
What is the cost of customisation of app? What is the license cost for your partners?
These services are provided at partnership rates. We send special partnership prices (pdf) directly for each partner. Please become a partner or drop us a mail to hello@xpansa.com.
I want to become a partner. What is needed? Is it free?
Just click – Become a Partner
mERP partnership is absolutely free.
I've sent request to Become a Partner. What should I do next?
Don't panic) We will answer to you ASAP. We send the email to you with the next steps.
Can I use my android device like barcode scanner with mERP warehouse module?
Yes you can. Read more on app's site – "Barcode Scanner Integration with Odoo" and on developer's site "How to connect a barcode scanner with Odoo"
When is the IOS version expected?
iOS version is in our priority list among other requests. iOS is what is requested quite often so is moved step by step on top of the list. No strict release dates yet, but we are planning to start developing iOS version in a few month.
We are currently focusing on developing highly demanded features for our customers and partners (of course, those features will be included in main application per our agreement with them). For example, recently we released update with integrated barcode scanner available.
What about "Offline mode", "GPS Tracking", "Bluetooth Print", "Fingerprint Recognition" and etc?
All the features are in plans. No strict release date yet. If you have some specific requests, would be happy to see you among our partners and request custom implementation and influence features roadmap.
I am a mERP partner. How should I help to promote the app?
First of all you need to add Xpansa logo at partnership page on your site. We do the same with your company logo on our partnership page. You need also to share all social media news about app from us in your social network and etc.
Do you have mERP's media kit (logos, banners). Can I use it for partner (media) promotion?
Yes we do. You can download it from the mERP Press Kit. Feel free to use our media kit for any app promotions.
Where do I find Privacy Policy model?
You can find the document here Privacy Policy
—
Please if you did not find answer to your questions drop us an mail to hello@xpansa.com
Photo by Evan Dennis