In this article you will see how to pick an order in a warehouse using the Ventor mobile application installed in your barcode scanner.
Table of contents
Also, we recorded a video, and you can watch it on our YouTube channel:
What we have before starting:
An order
A barcode of the order
You need to pick items according to this order in your warehouse. On the picking operations list, also you have a barcode of the order that helps you to open the order on the mobile scanner.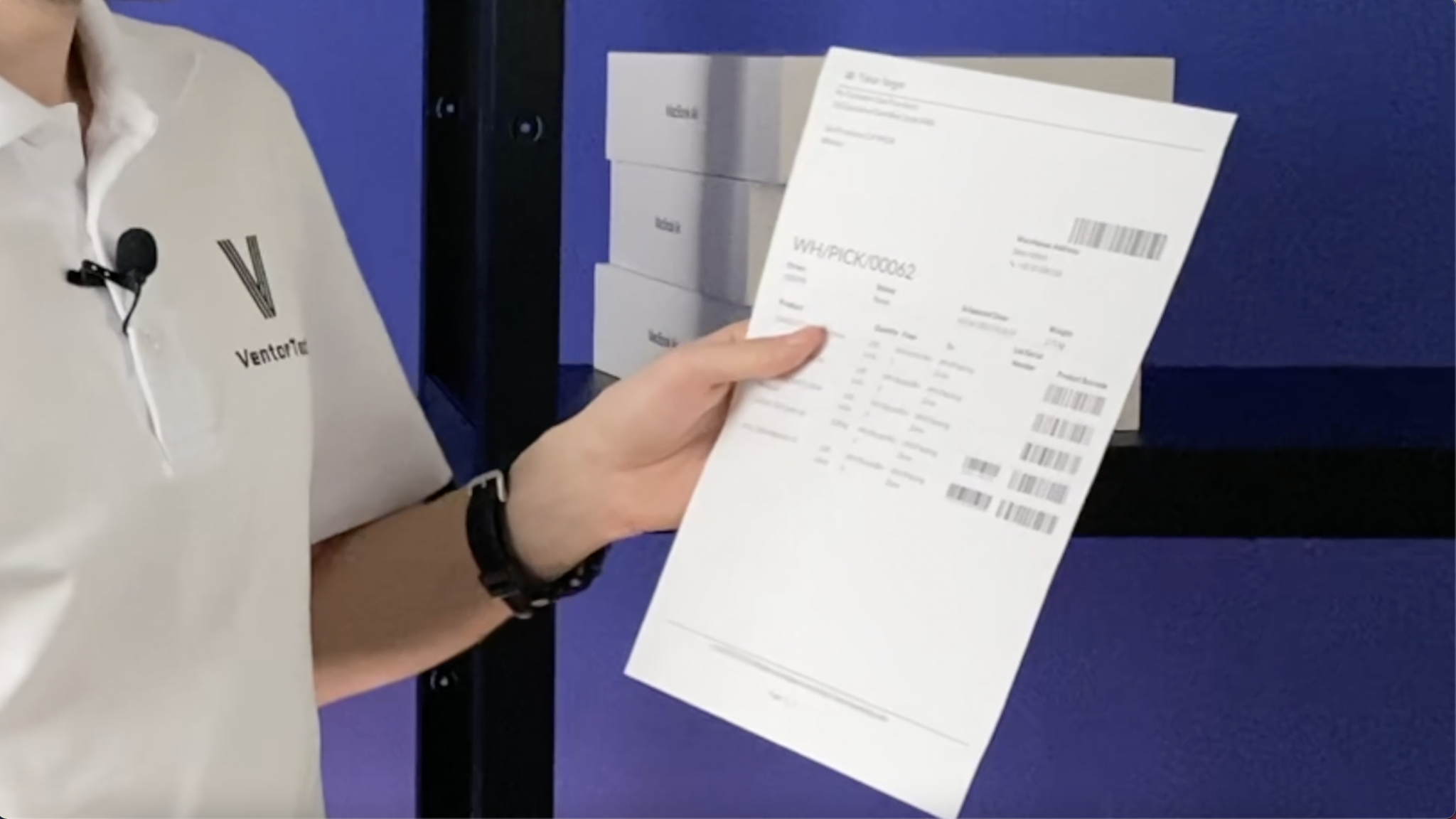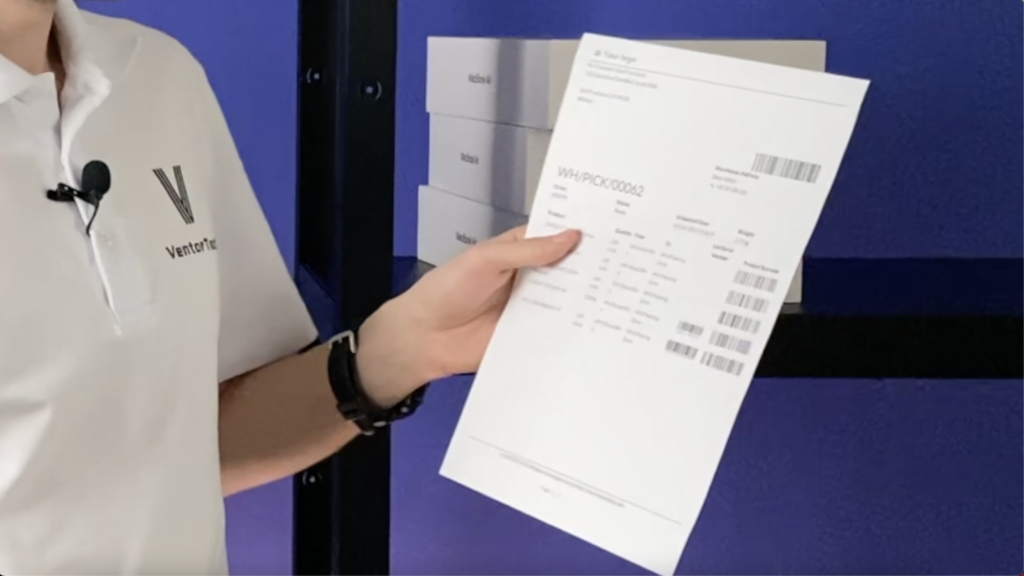 Let's open the application, select in the menu 'Warehouse operations', find the needed warehouse, in our case – San Francisco, and open the 'Pick zone' to open this transfer.
You can find the order manually. Click on the search icon, insert the number (62) and here we've just found the order.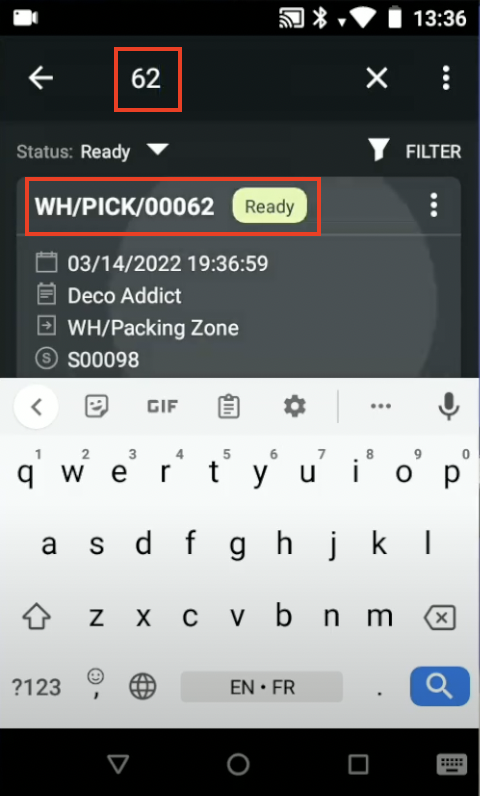 Also, you can scan the picking barcode from the list of all warehouses or inside the pick zone.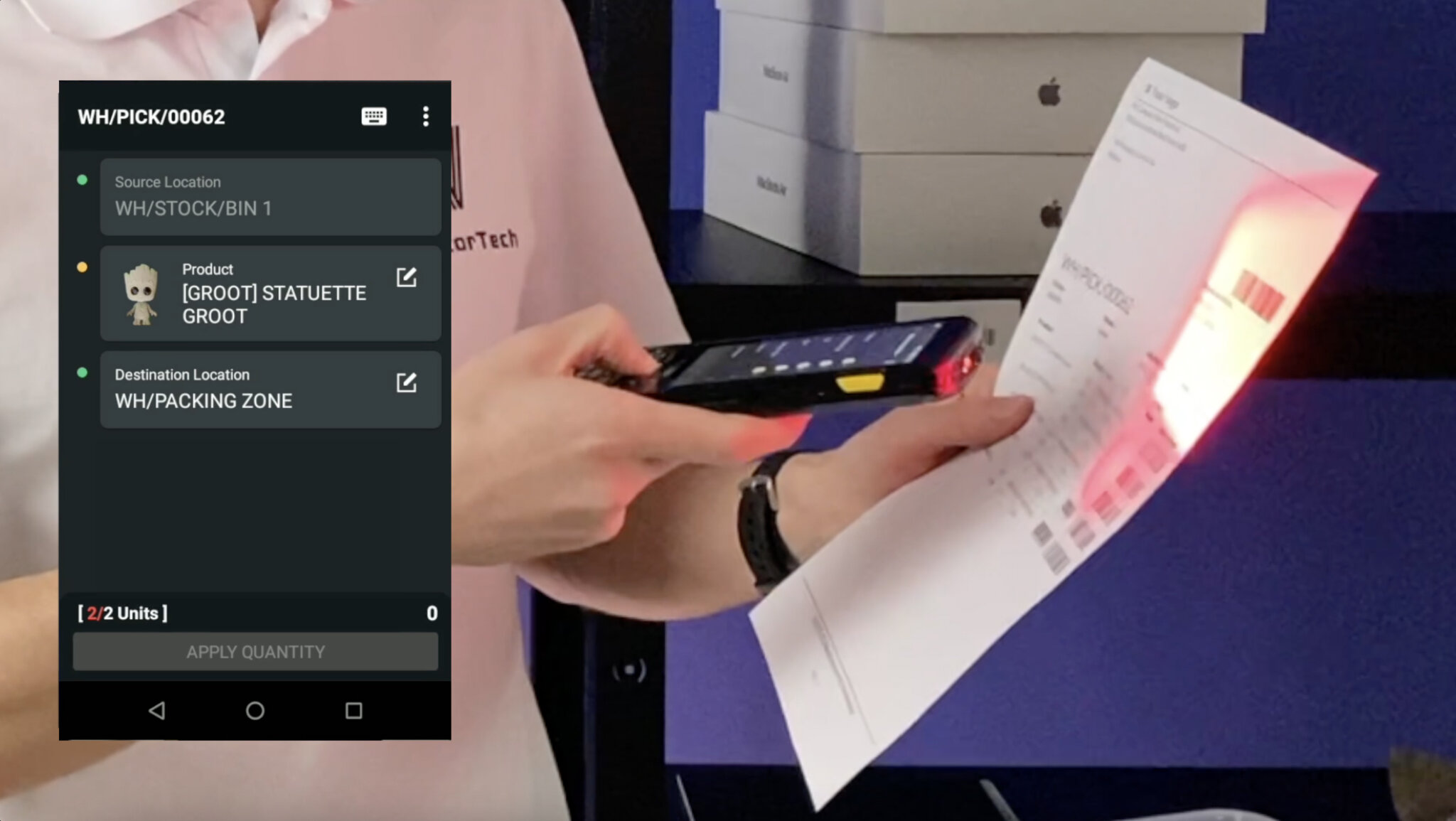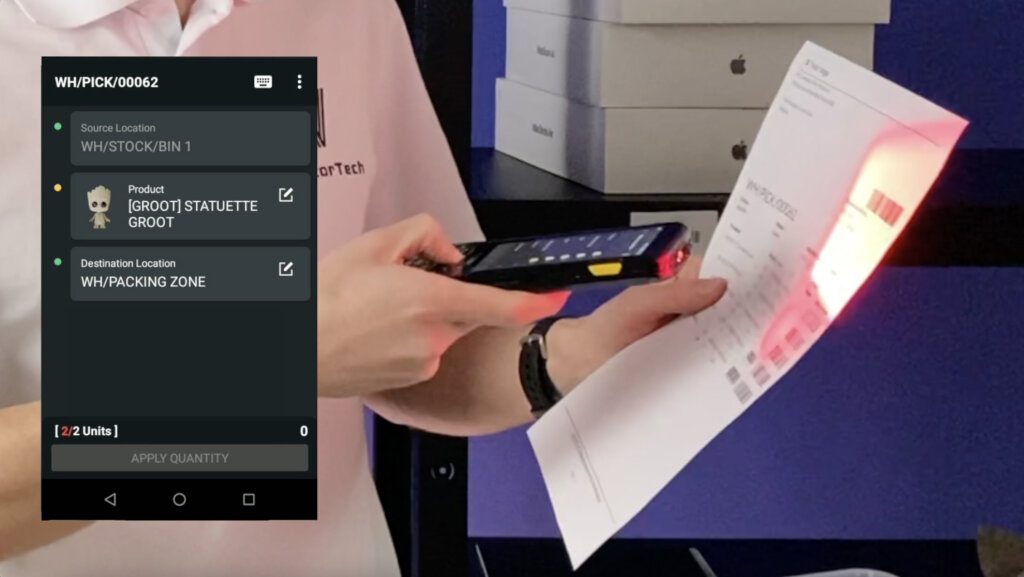 If you click 'Back', you can see all the details about the customer: sales order number, weight and so on. And under the ToDo tab, you can find all the lines and qty you need to pick.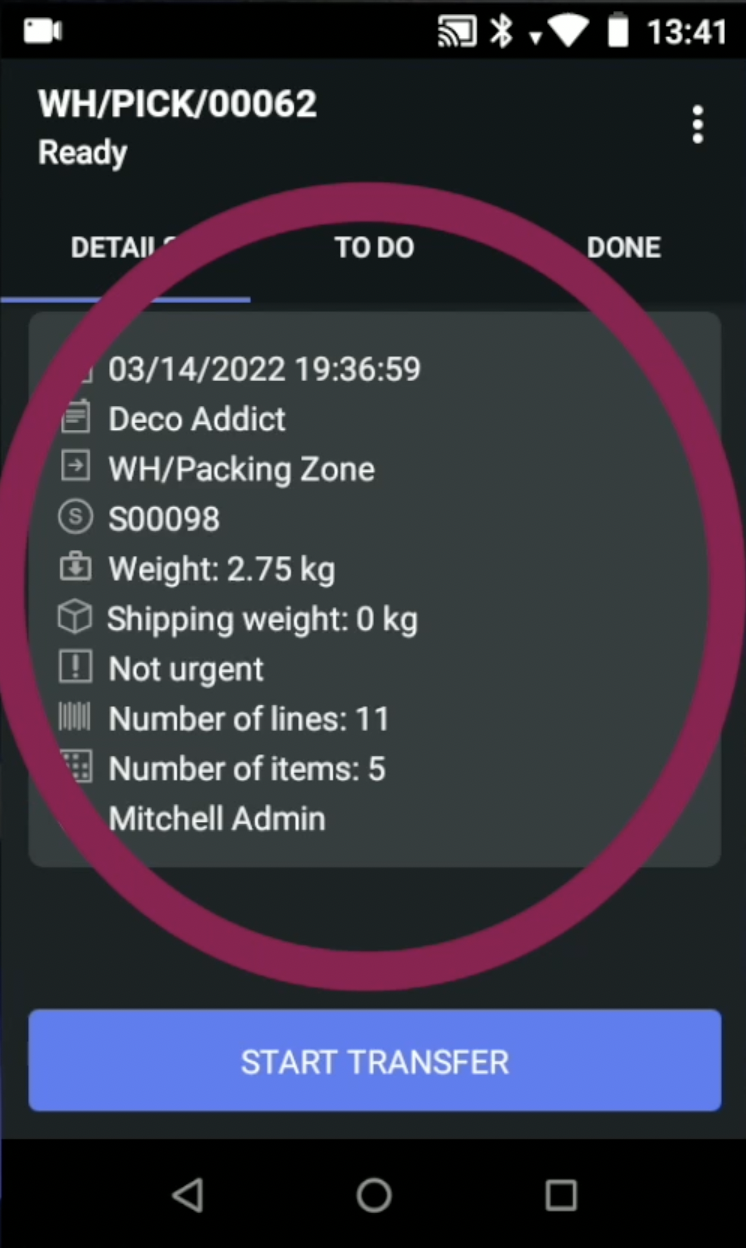 Let's start the transfer.
Case 1: Basic picking in Odoo
Let's start the transfer. You see the first item we need to pick, it is image and the location where this item is stored. Go to this location (BIN 1). The yellow dot means that we need to confirm, that we take this product by scanning the barcode.
Let's scan product. You will see one out of two. So, you can scan another item or just insert the quantity using the keyboard. After that click 'Apply quantity' and you are ready to pick the next product.
Case 2: Print damaged barcode on picking in Odoo
The app says that you need to go to BIN 2 to pick the Blue Cup. But we see that the barcode is damaged.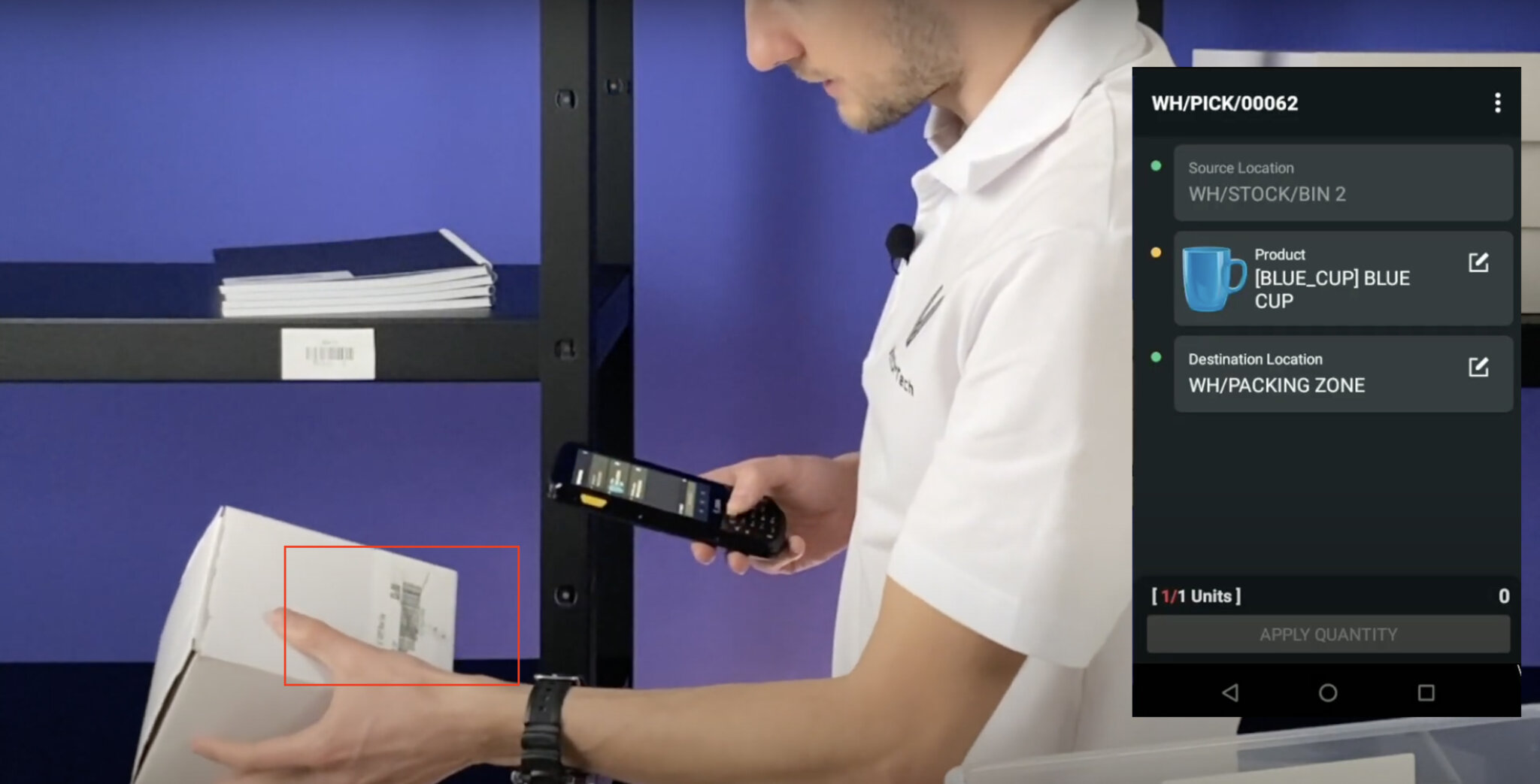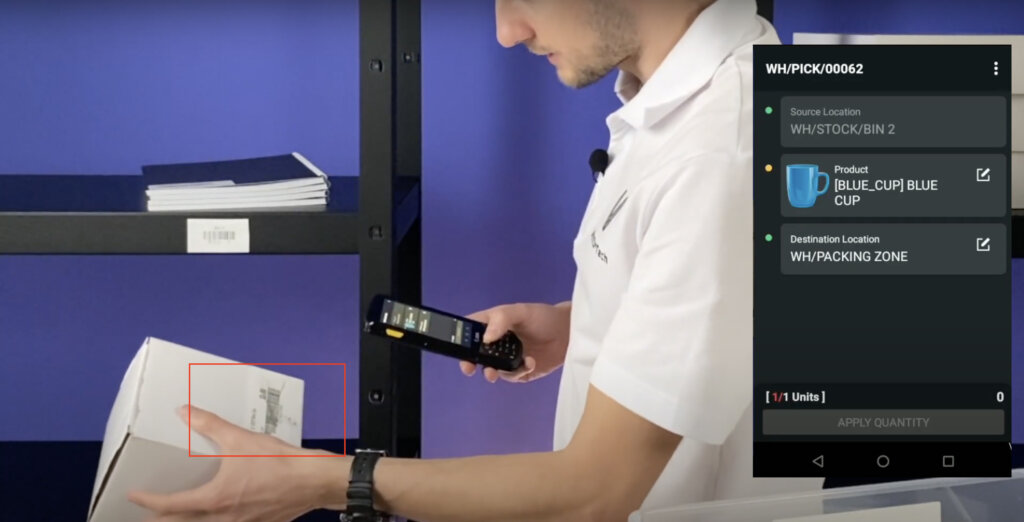 In our case we have only one product item, so we can find this item manually by clicking on pencil.
Also you can print a new barcode label to replace damaged barcode. Clicking three dots > 'Info' > Print icon and print label.
And you have new barcode label.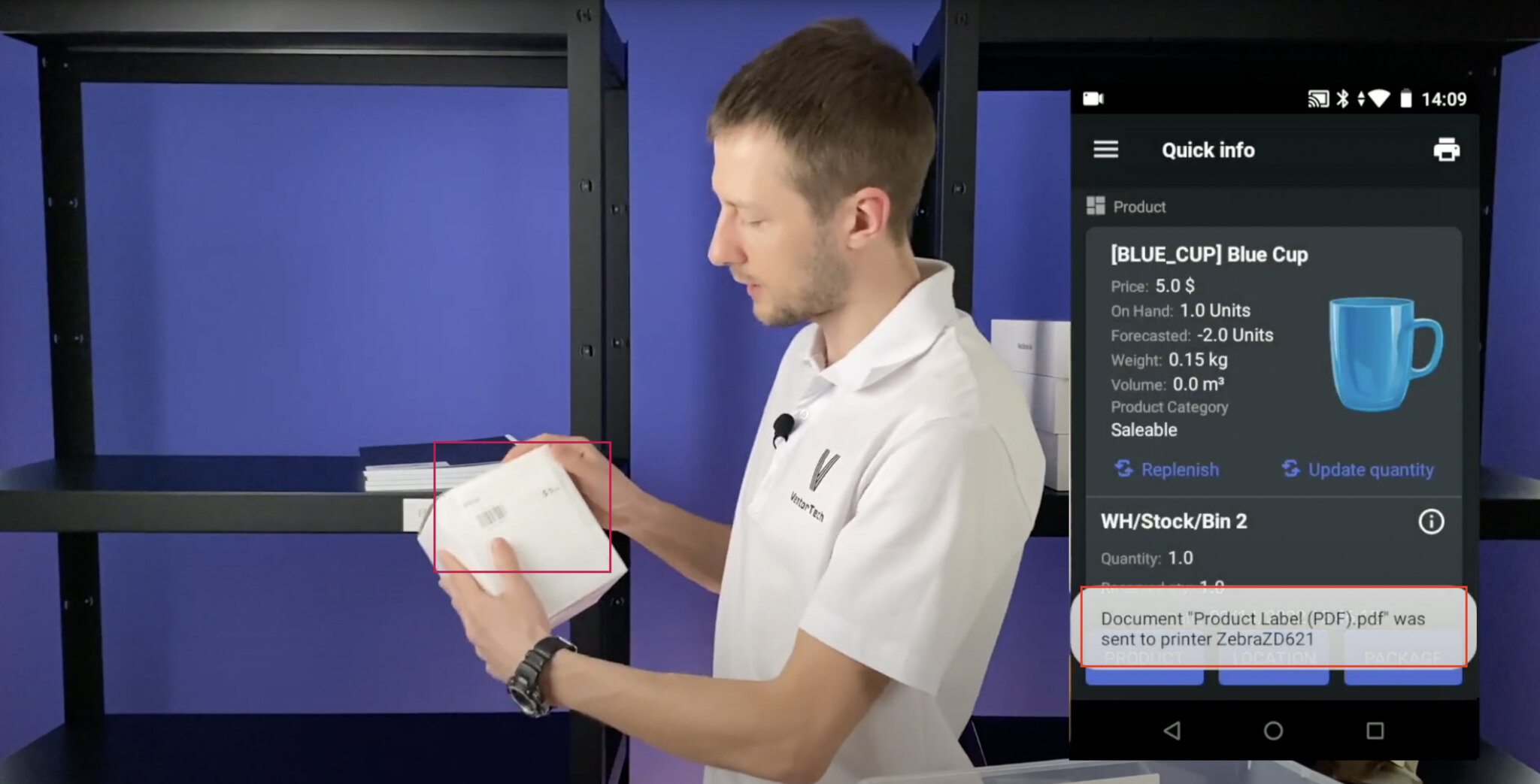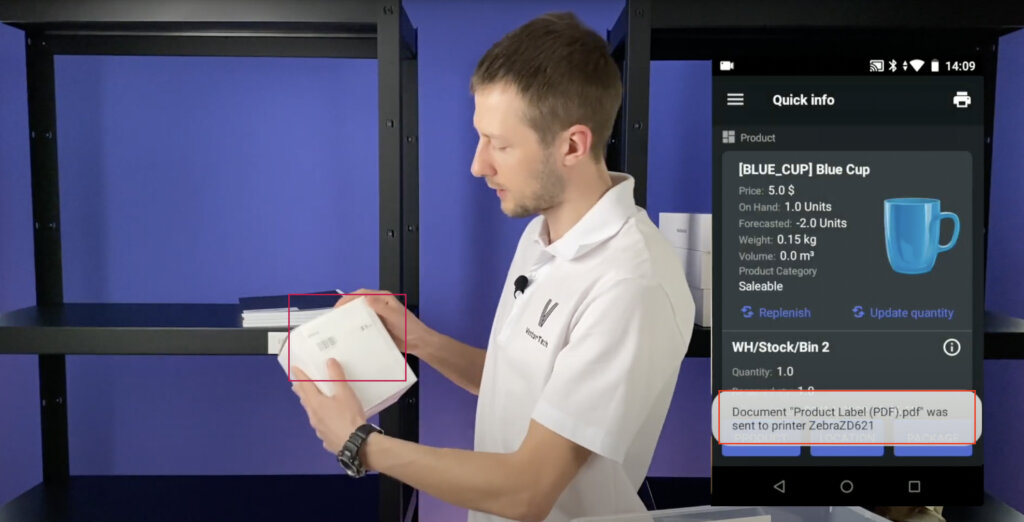 Now go back, and apply quantity (works via Odoo Direct Print PRO) .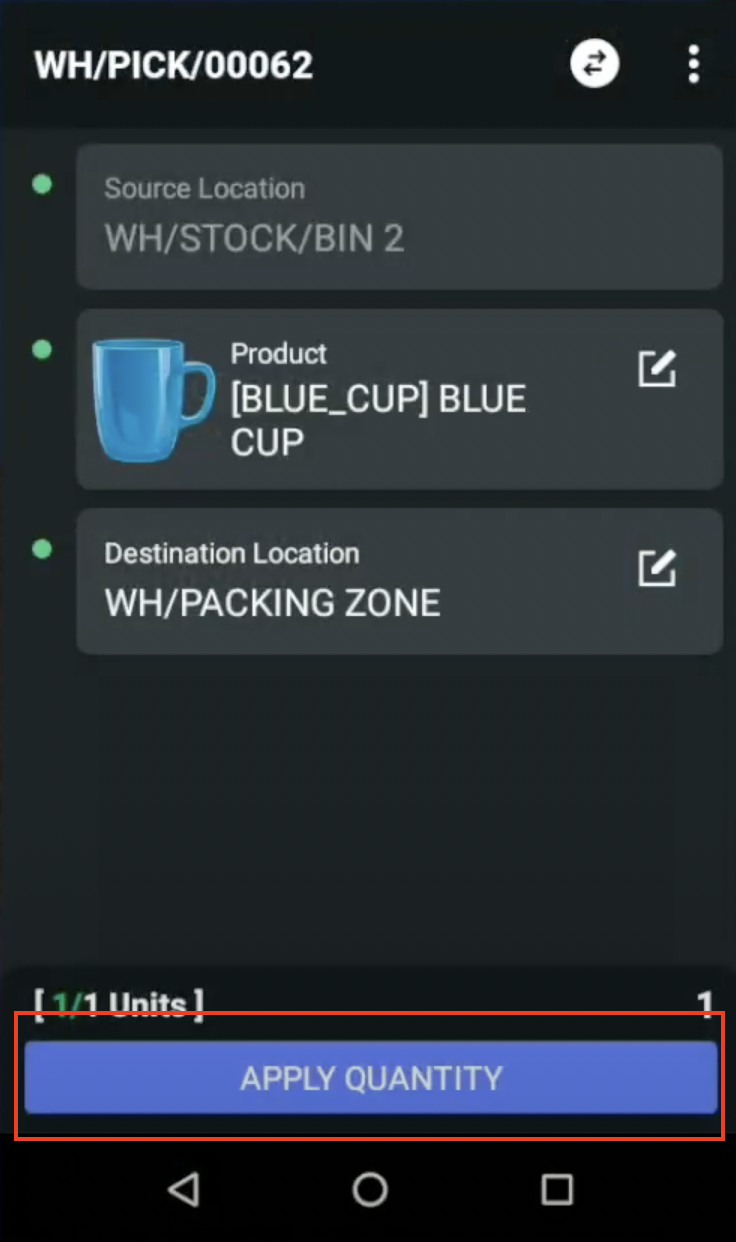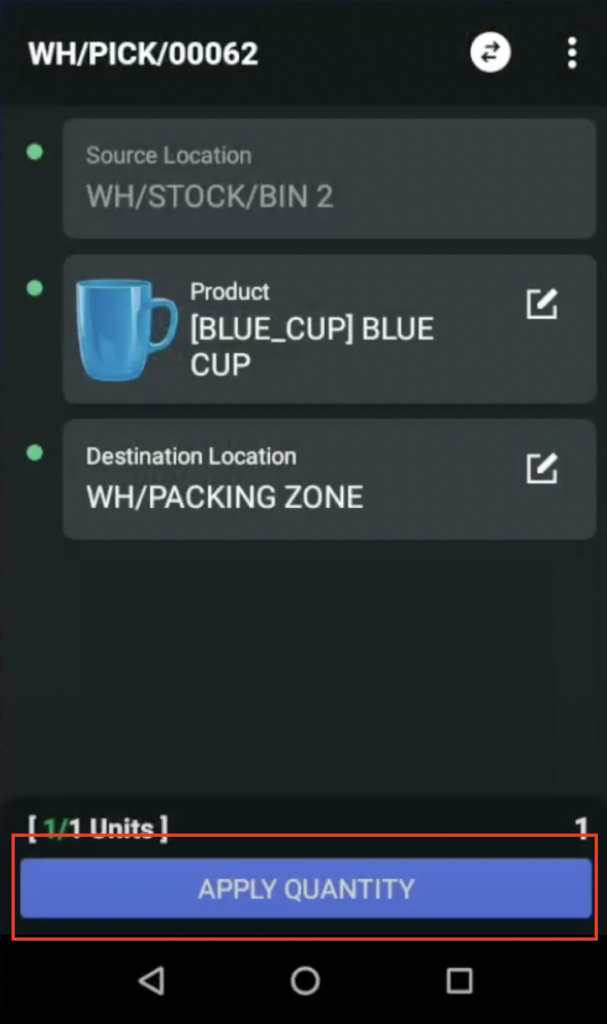 Case 3: Pick items in Odoo from location different to reserved one
Next item should be picked from BIN 3. We need to pick 5 notepads. But on BIN 3 we have only 4 notepads.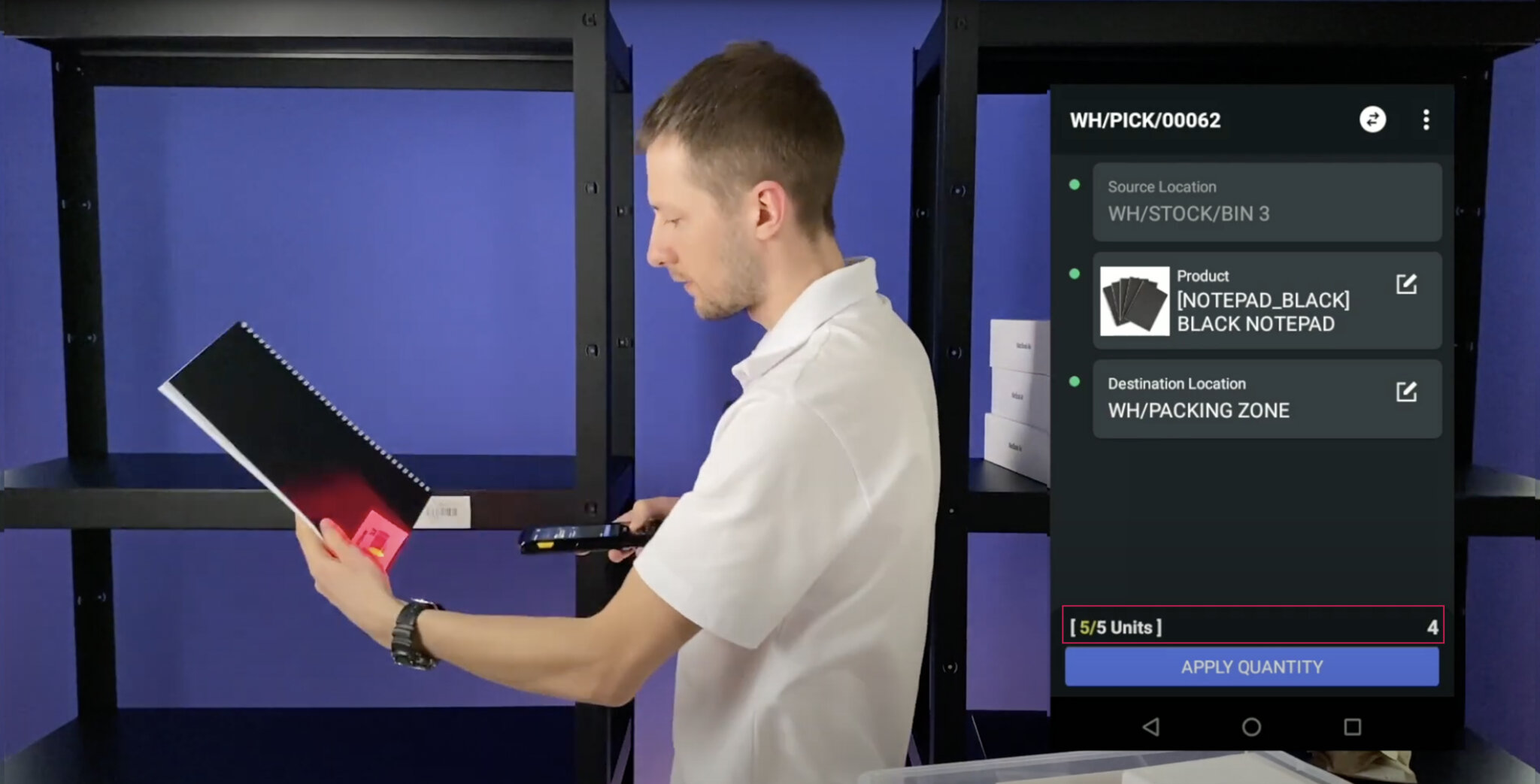 Let's apply them.
Let's click on "On hand" button. And check where you can find the fifth notepad. Our notepad is on BIN 4. Let's take it from there.
Let's take the lust fifth notepad. Change Source Location for them and apply quantity.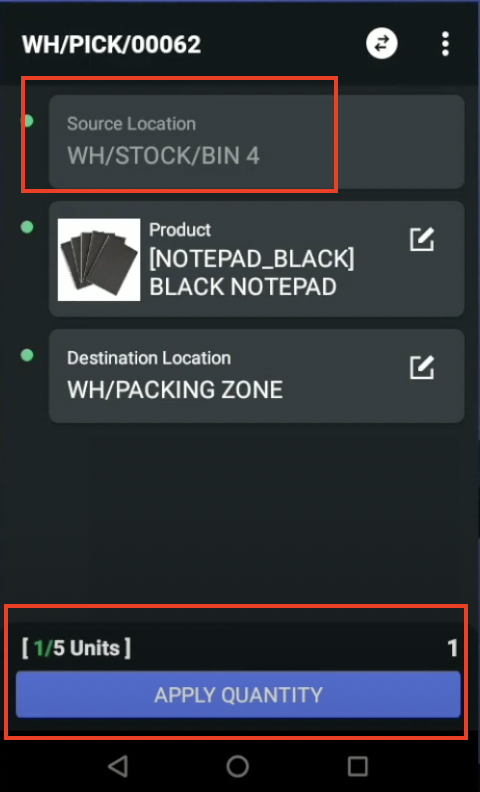 Now you can quickly check what you have already picked. Go back, swipe to the 'Done' tab and here you see that 2 units of GROOT were picker from BIN 1, Blue cup from Bin 2, and Notepads picked from Bin 3 and 4.
Case 4: Confirm lot on picking in Odoo
Let's pick the next product. Go to Bin 5, and take 2 kilos of green tea.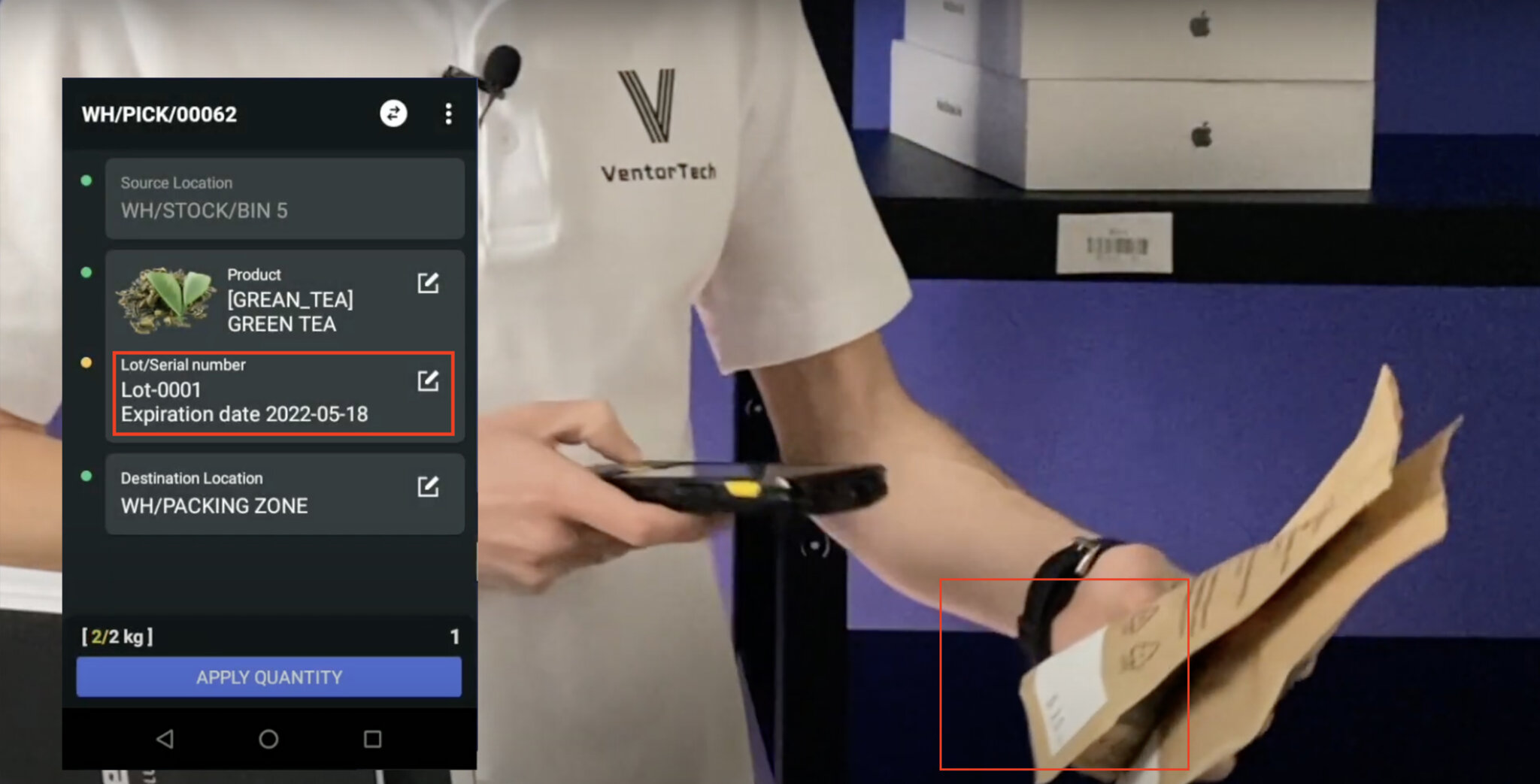 Scan the product barcode. The app says that you need to take Lot-00001. Select it manually from the list and apply quantity.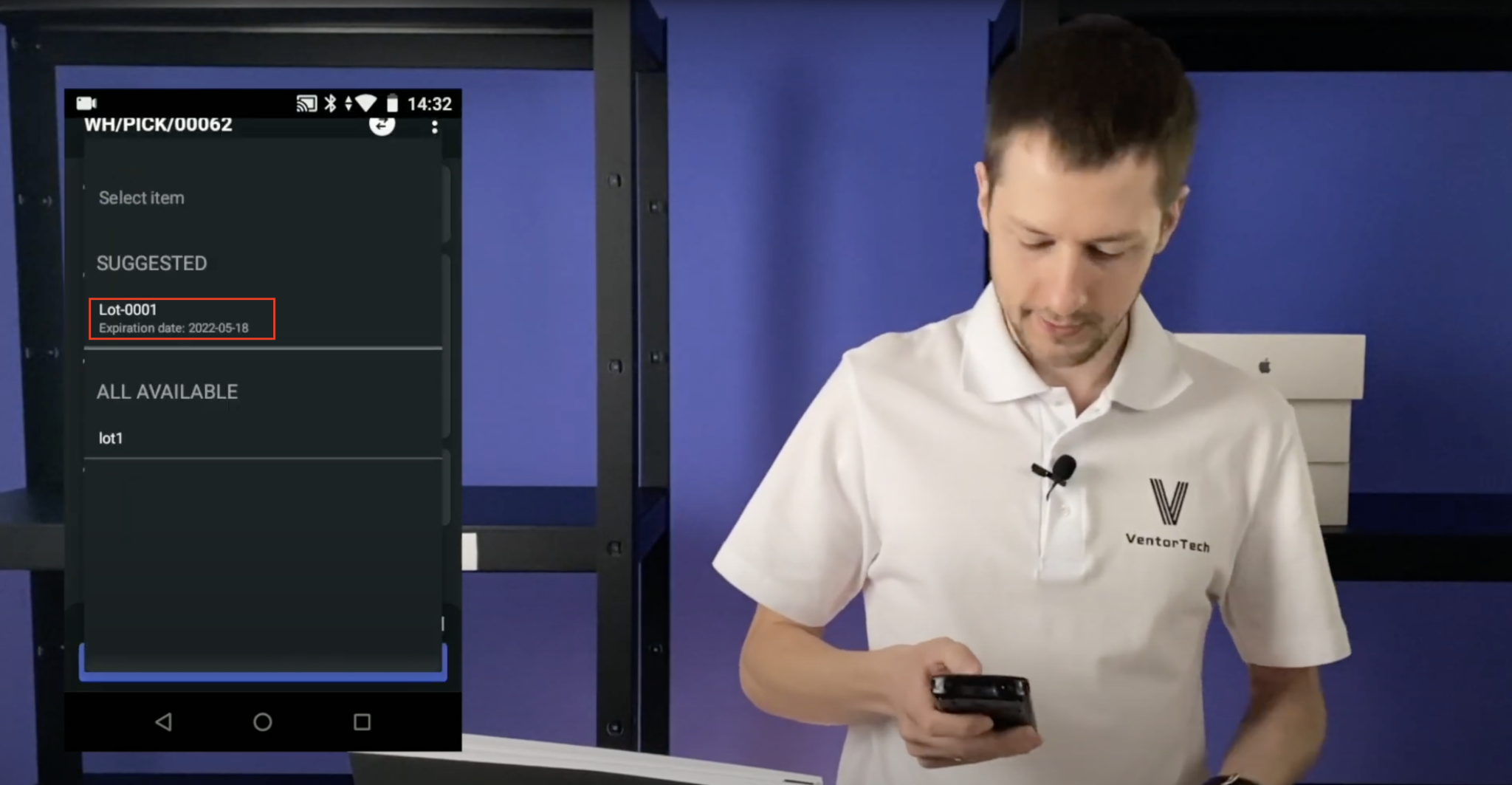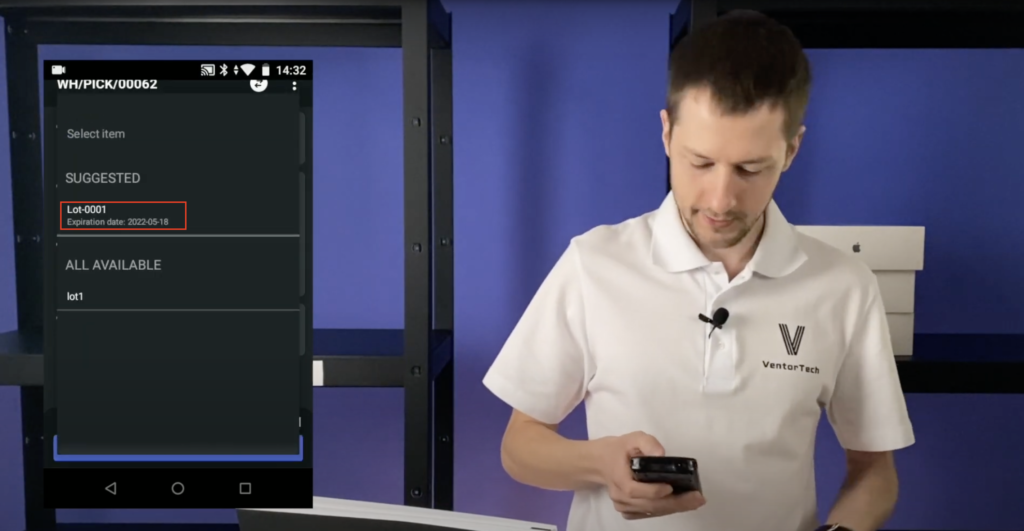 BTW, if you have printed lot numbers on your packages you can change setting in the app and confirm lots in Odoo by scanning, not selecting manually.
Case 5: Change reserved serial numbers on picking in Odoo
Now let's move on Bin 6. Here we need to pick one Mac. Let's scan it.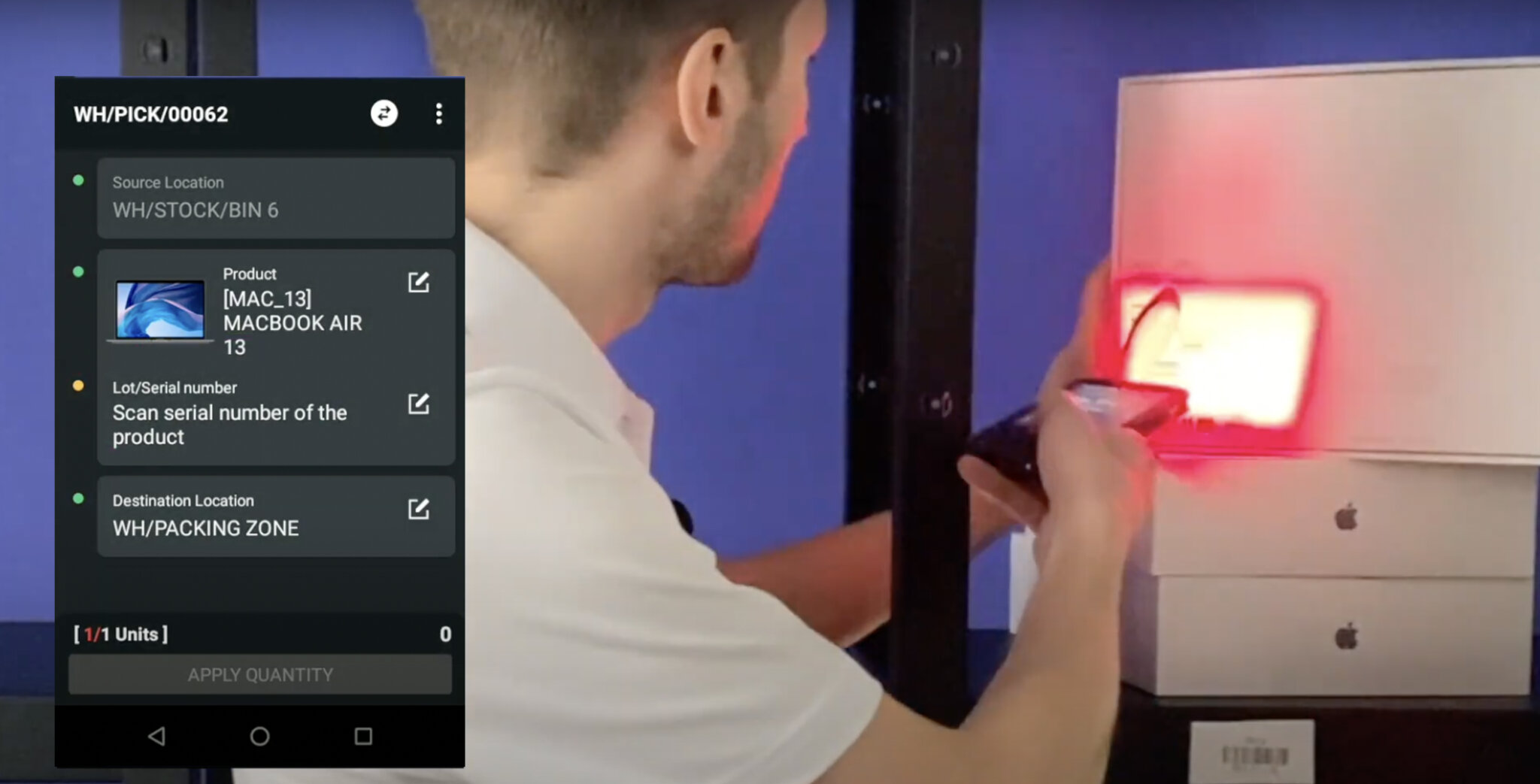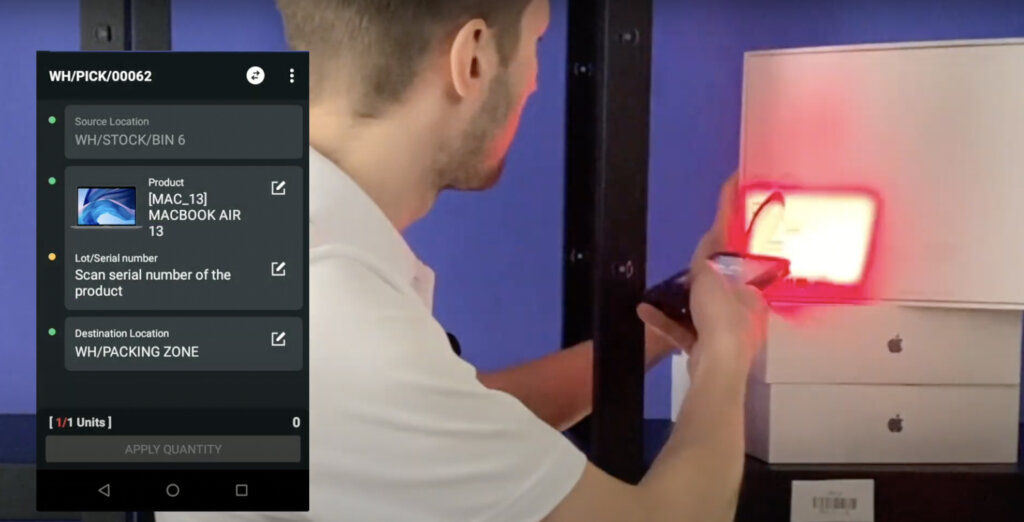 As this product is tracked by serial number, you need to define which exactly item you will ship. Odoo has reserved one of available serial numbers, but we just pick the serial number from the first item we found (not reserved by Odoo).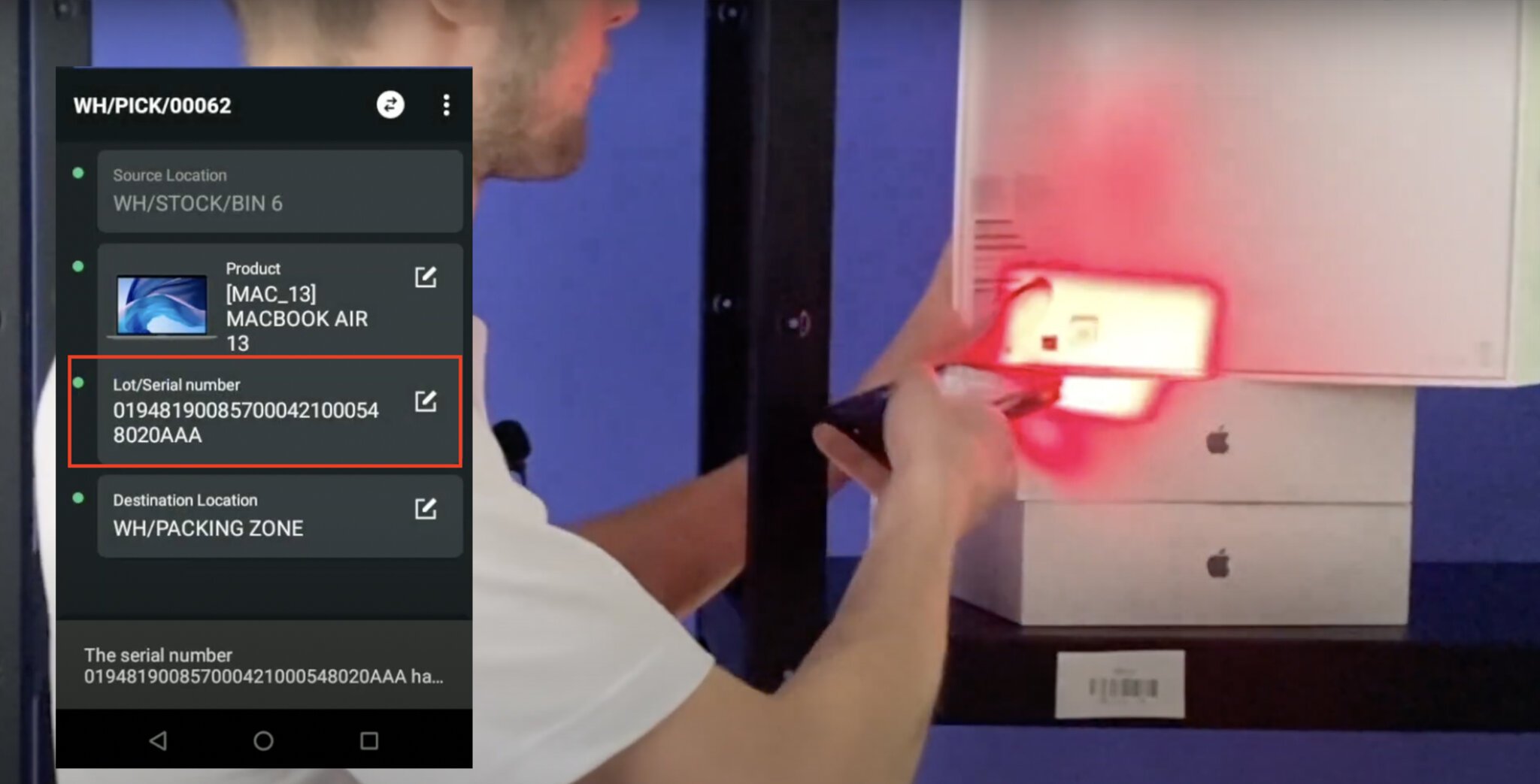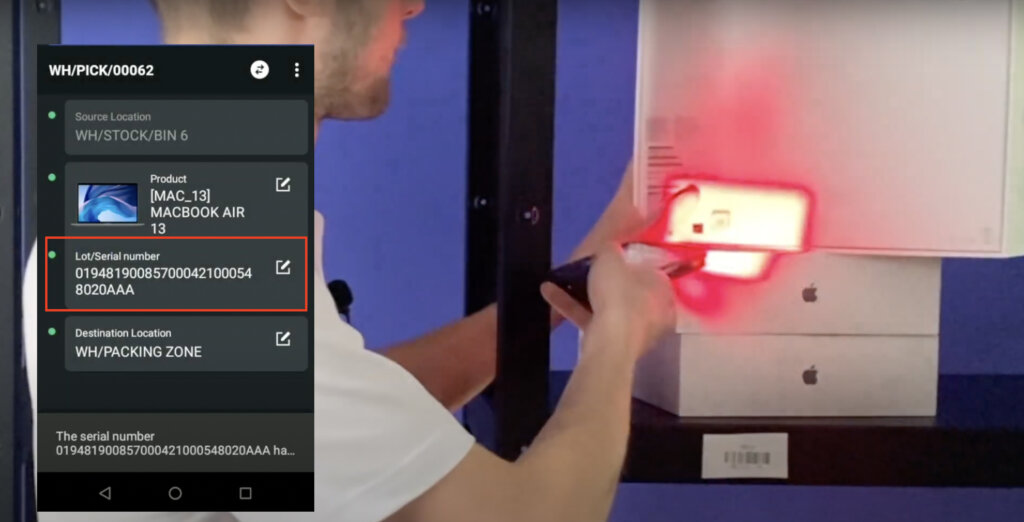 And apply quantity. Case is done!
The pick transfer has been validated and now can be processed in the packing zone. Let's check this transfer in Odoo and review what we've done.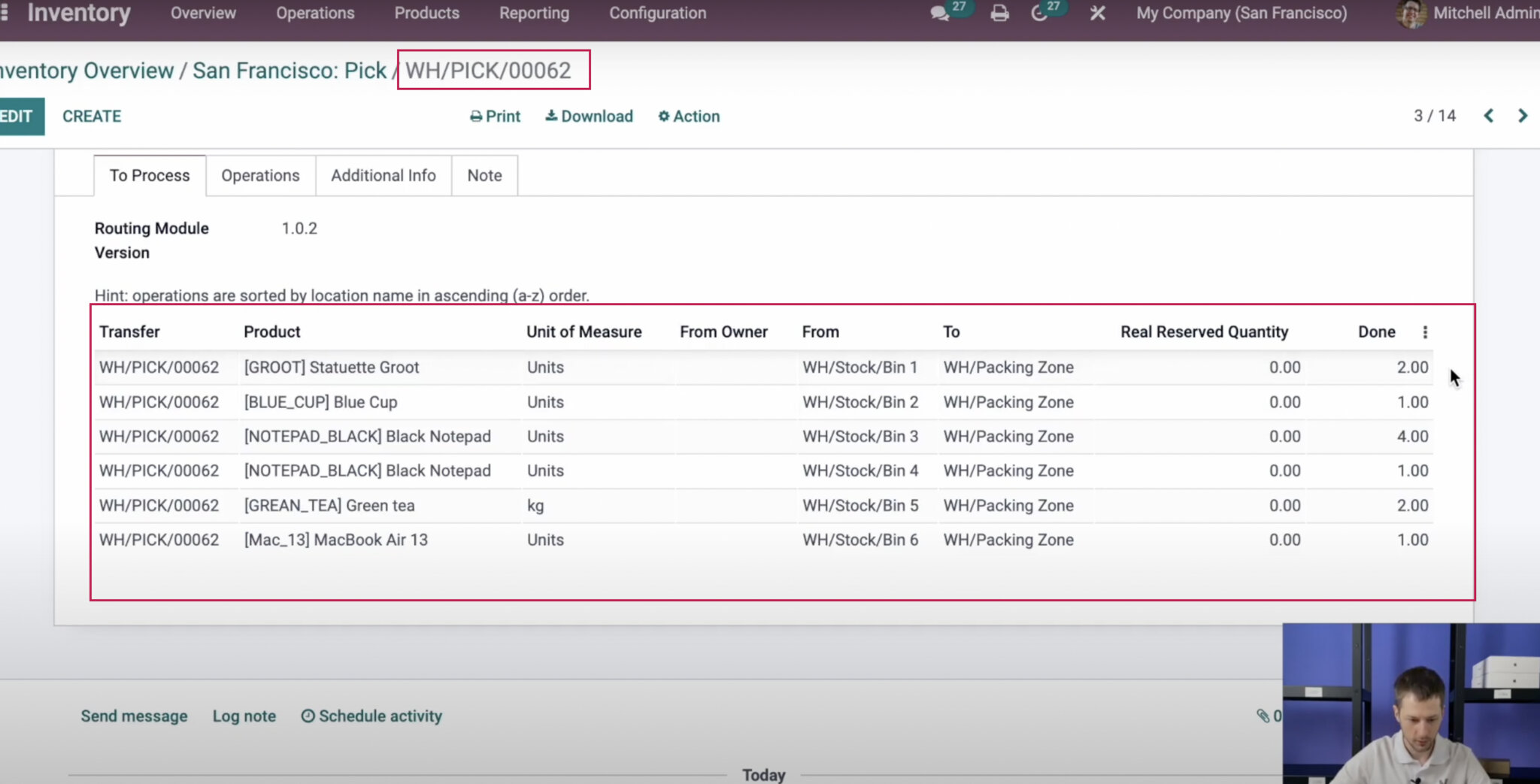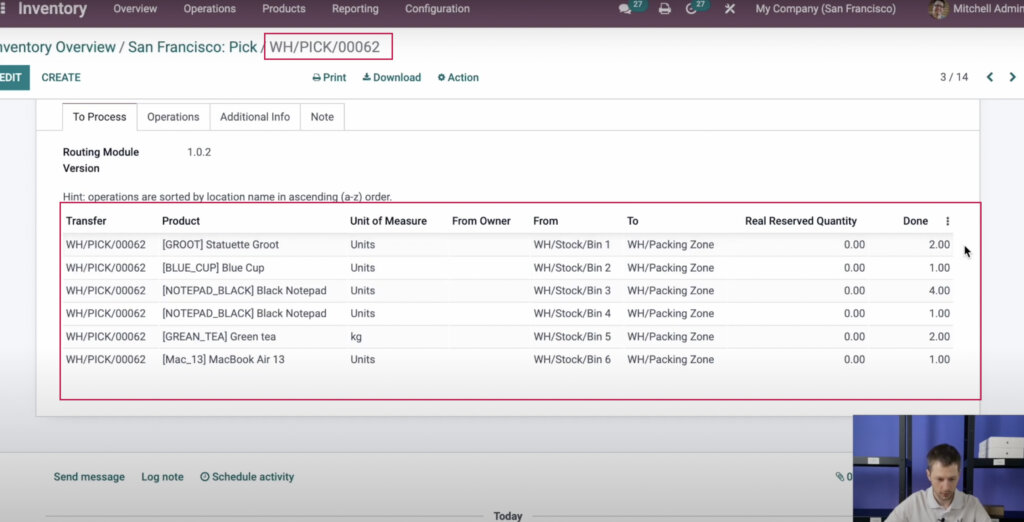 Now this transfer is ready to process in packing zone.
Batch and Cluster picking in Odoo
You can also pick a few different orders at once via Batch or Cluster picking. It helps to optimize your picking workflow even more. Find more information here – https://ventor.tech/mobile/pick-more-walk-less-full-picking-and-packing-optimization-in-odoo/
Now, using Ventor, you can easily pick your orders in Odoo in just a few steps.
We hope that you have found answers to your questions in our article. If you have any other questions, then feel free to leave your comments under this article. We look forward to hearing from you!
***
Ventor: Quick Start Guide – ventor.app/guides/ventor-quick-start-guide/
Ventor complete guide. Introduction – ventor.app/guides/ventor-introduction-guide/